I've never felt strong, intense ties to one country. I've lived in Trinidad and Tobago all my life save the three years I spent in Jamaica for my first degree. I would say though that I have always felt a strong tie to the Caribbean region.
Both my maternal and paternal families come from Grenada. My mom's family was a part of the influx of Grenadians to Trinidad in the 1970s with the oil boom and my mom came in 1980 during the Grenadian revolution. I spent many July/August vacations in Grenada growing up and always felt like it was a second home. After living in Montego Bay for three years, Jamaica is most certainly another second home (am I allowed more than one?) which I still visit quite frequently as my partner is Jamaican.
I have been fortunate enough to visit some other Caribbean islands and have always been intrigued by the many similarities yet intriguing differences we all share.
I am in no way an avid traveller but it is my passion. It is the most fulfilling and enjoyable thing and always ALWAYS a learning experience. I have been wanting to create a travel blog for eons but I have felt like I don't travel enough to do so and I'm not sure what would make my blog different to the gazillion others out there. I'm still working on that but I had to start…I've been putting it off for way too long. So that's the reason for Lah Hay.
Lah Hay is a Grenadian expression whose better known sister is 'drevait'. It means to wander, to adventure, to explore. Lah Hay is my attempt to blend an old passion of mine: writing and my wanderlust to create something other travel lovers would love to read.
I can't promise coverage of glamorous Eurotrips (for now) and I'm not about to pretend travel is cheap. I won't ignore my privilege and tell you "just save your money, it's worth it" but I do want to speak about some of the tips and tricks I've used to afford to travel and share stories from my past travels or in real time.
Come Lah Hay with me 🙂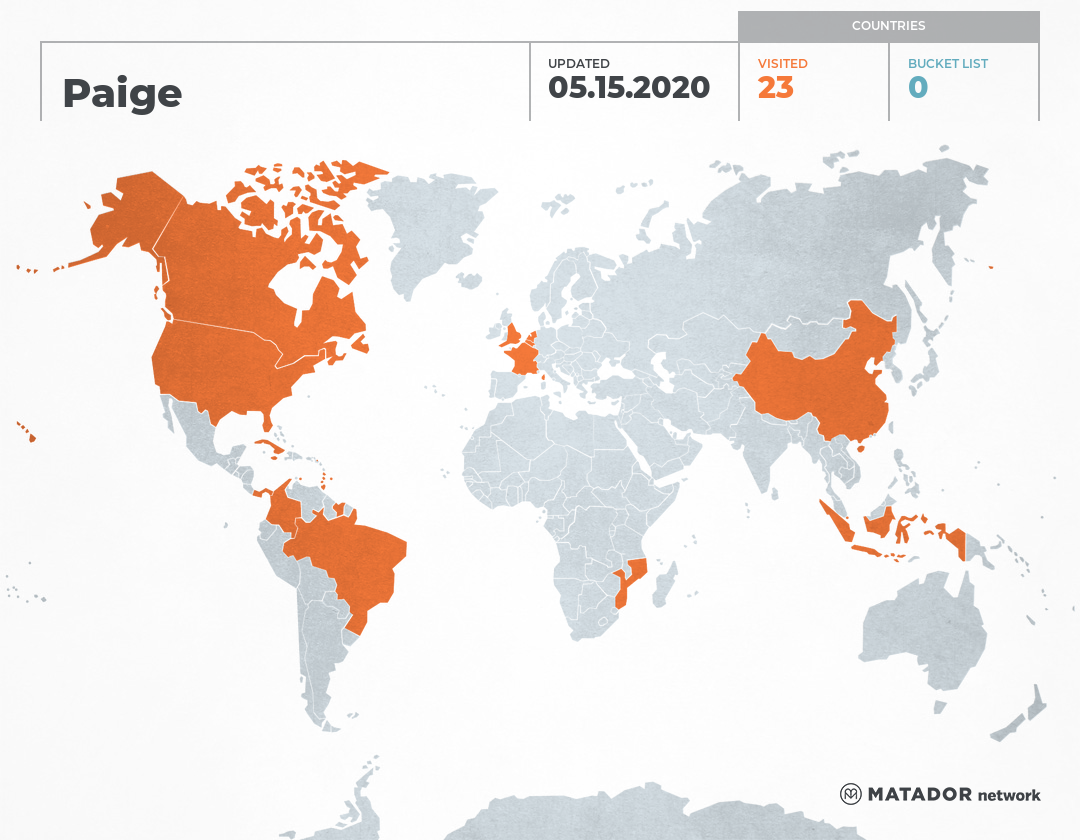 Paige has been to: Antigua and Barbuda, Barbados, Brazil, Grenada, Jamaica, Saint Vincent and the Grenadines, Suriname, Trinidad and Tobago, United States.
Get your own travel map from Matador Network.